I am so happy to present my good friend Sheena owner of Bella Fiori Floral and Event Design.  She does everything from event floral, silk floral, flower parties, planning, theme creation and pretty much anything related.  Sheena was recently voted best florist in Morris/Essex Health and Life Magazine for 2013 and I completely agree!  She is one of the top florists in NJ and really a great person – good old fashioned customer service.  In addition to today's spotlight, I've married up her gorgeous arrangement and inspirational design with a matching bridal session for a complete package (see below!!).  I asked her some questions about her business so any bride hungry for inspiration needs to get in touch with her.  If you are looking for more than a NJ Wedding Florist, CALL HER!
NJ Floral Design: Bella Fiori Floral and Event Design
Model: Monica Cioffi
NJ Make Up: Heather Newton
NJ Hair Stylist: Aleetha Clanton
NJ Wedding Photographer: Dawn Joseph Photography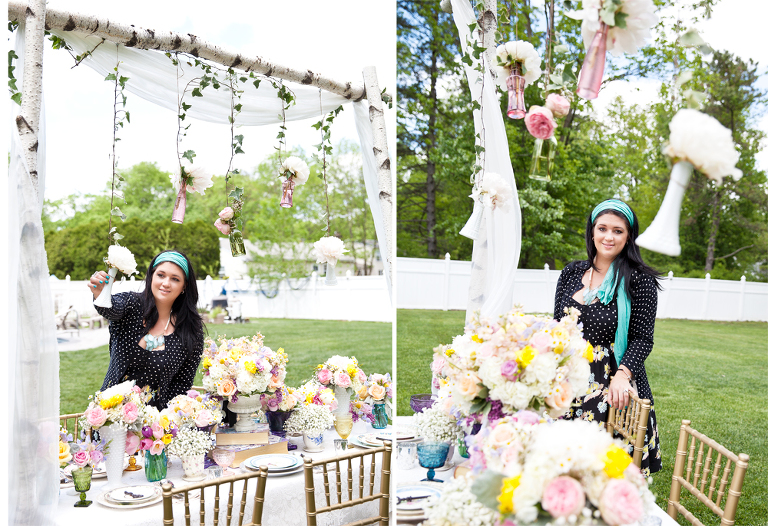 How long have you been in Business?
About 1.5 officially 2 years unofficially! 2 years ago I wanted to test the waters and did mostly friends and family events.  I had so many people calling me asking to do their events after seeing my work.  After only 5 months it became an overnight success.  I just ran with it!
What are your favorite themes and combinations in 2013/14?
I love ultra girly vintage, rustic elegance and arrangements filled with different unexpected flowers. I love lots of color, and lighter shades.   I feel they give a much more romantic look vs. darker colors.
When thinking about your beautiful spread in today's presentation, where did the inspiration for all of it come from?
My antique Mix and Match China Collection inspired me as crazy as it sounds! I went on a thrift store hunt and found lots of beautiful china and linens and wanted to set a tea party theme to our Mother's Day spread.  I dug up some blue ball mason jars, tea cups, colored glass wear and some books and went crazy!  I mixed all types of bright pastel colors and flowers and I couldn't be more pleased with the outcome.
What advice so you have for brides looking for that personalized touch on their wedding day?
Don't choose a one or two color palates.   Make it colorful, pick three main and a few more to pop!  Mix up your centerpieces, do at least three different styles throughout the wedding or even something different at each table that all match each other in one way or another.  Find fun objects that can be used as vases, and then cute unexpected objects to put your flowers on top of, such as books, a slice of log, vintage linens or napkin.  Steer clear of the typical mirror.  Don't go all high.  Do arrangements in 2-3 different heights throughout the room – it makes the room look full of flowers.  All high is quickly becoming a thing of the past and somewhat out dated.   There is no much more you can do with lower centerpieces anyway! Use a variety of flowers and search out flowers most have never seen before.  If on a budget, choose one really cool flower to add a pop!
What trends are you looking forward to in the next few years?
I love how weddings are becoming more personalized and more emphasis is being placed on the smaller details.  It's not just about picking the main color for bridesmaid dresses, flowers and napkins and calling it a day. It's more about what cool objects can be used for table numbers, what fun thrift shop finds one can put the flower arrangement in, instead of a classic arbor.   Let's get three vintage worn out doors, attach them together and hang a crystal chandelier from the top!   I love vintage objects like blue ball mason jars, milk glasses, and depression glass – it all makes for such a romantic hand crafted atmosphere!   I think Pinterest has been a huge inspiration to all of the brides and designers out there.  It makes designing weddings so much more fun and more importantly one of a kind!
Please enjoy this editorial.  These amazing artist put this all together – I hope you are inspired!